SPEC® ACCEL™ ACC Result
Copyright 2015-2017 Standard Performance Evaluation Corporation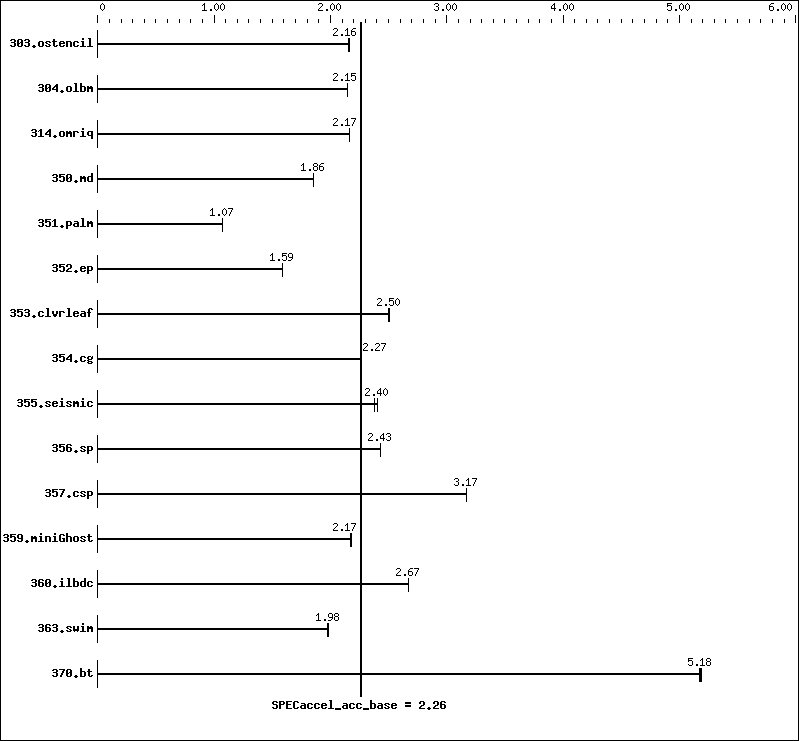 The config file option 'submit' was used.


Sysinfo program /var//opt/cray/alps/spool/14533706/sysinfo
$Rev: 6965 $ $Date:: 2015-04-21 #$ c05a7f14b1b1765e3fe1df68447e8a35
running on nid03790 Mon Jun  5 16:59:06 2017

This section contains SUT (System Under Test) info as seen by
some common utilities.  To remove or add to this section, see:
  http://www.spec.org/accel/Docs/config.html#sysinfo

From /proc/cpuinfo
   model name : AMD Opteron(TM) Processor 6274
      1 "physical id"s (chips)
      16 "processors"
   cores, siblings (Caution: counting these is hw and system dependent.  The
   following excerpts from /proc/cpuinfo might not be reliable.  Use with
   caution.)
      cpu cores : 8
      siblings  : 16
      physical 0: cores 0 1 2 3 4 5 6 7
   cache size : 2048 KB

From /proc/meminfo
   MemTotal:       33083764 kB
   HugePages_Total:       0
   Hugepagesize:       2048 kB

/usr/bin/lsb_release -d
   SUSE Linux Enterprise Server 11 (x86_64)

From /etc/*release* /etc/*version*
   SuSE-release:
      SUSE Linux Enterprise Server 11 (x86_64)
      VERSION = 11
      PATCHLEVEL = 3

uname -a:
   Linux nid03790 3.0.101-0.46.1_1.0502.8871-cray_gem_c #1 SMP Sat Oct 22
   15:26:43 UTC 2016 x86_64 x86_64 x86_64 GNU/Linux


SPEC is set to: /lustre/atlas2/stf006/scratch/vgv/spec/accel/kit75chester
   Filesystem                   Type    Size  Used Avail Use% Mounted on
   10.36.226.77@o2ib200:/atlas2 lustre   14P  7.4P  5.8P  56% /lustre/atlas2

Cannot run dmidecode; consider saying 'chmod +s /usr/sbin/dmidecode'

(End of data from sysinfo program)


Hardware no longer GA. Result shown for historical purposes.